My son is not old enough for a full time job. He is still a full time student. But a question that I am sure must nag all parents who have a child with a disability is how will my child support themselves when they are older? We all also want to enjoy our career, so how do I make sure he has a career that he actually enjoys and feels like a productive member of society? He is an interesting article I found this morning.
Finding meaningful employment a challenge for those with developmental disabilities
April 29, 2013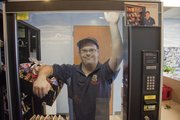 Ryan Banning looks through one of his vending machines at the Lawrence Airport. Banning has operated his own vending machine business, Ryan's Vending Services, for more than a decade. Banning has Down syndrome, a condition that can limit employment options.
Lawrence man Ryan Banning is in every sense of the word an entrepreneur. For more than a decade, Banning, 36, has operated his own business, Ryan's Vending Service, managing a dozen or so vending machines in Lawrence.
He's always looking to expand, he said as he loaded the soda and snack machines at the Lawrence Municipal Airport recently.
And the bottom line for Ryan, who has Down syndrome, is that he enjoys the work and turns a profit.
"He's earning, he's paying taxes," said Martha, his mother, who helped conceive of the business idea when Ryan finished high school. "It's been a really good fit for him."
'School to the couch'
Ryan needs a little help with his small business. A job coach drives him to pick up supplies at Sam's Club and to several local locations, including Visiting Nurses Association and a Kansas University fraternity. Ryan's father, Bob, helps obtain the vending machines and supplies, and runs the financial side of the business.
While Ryan has found work that he enjoys, he's the exception for those with developmental disabilities, said Judith Gross, a research associate with the Kansas University's Beach Center, which advocates for those with disabilities.
"They graduate from school to the couch," missing out on socialization and a general sense of self-worth, Gross said. "Work is an important part of everyone's life."
And it's the type of work that makes a big difference, according to Rocky Nichols, executive director of the Disability Rights Center of Kansas.
While many with developmental disabilities find sub-minimum wage work in very structured workshop settings, that shouldn't be the goal, Nichols said. The focus should be on employment in a typical job setting where those with developmental disabilities work alongside those without disabilities.
But finding jobs, and employers willing to work with those with developmental disabilities, isn't easy.
According to a 2011 report
from the National Association of Councils on Developmental Disabilities, only 14 percent of adults with a developmental disability are employed in the competitive workforce.
Overland Park woman Tracey Dickey knows the struggles firsthand. Her son, Cole, a student at Blue Valley Northwest, has one year left in school, and she's been fighting for the past several years to find Cole a job when when he graduates.
"It's scary," she said. "He has one year left, and then what? It keeps me up at night."
Tracey and her son have explored a variety of options, such as supported employment programs, but such programs have waiting lists. And her son has limitations, such as not being able to work a full shift.
"The job market is tough," she said. "And he's competing with people who probably can pull an eight-hour shift."
FEAT
Gross and the Beach Center launched Family Employment Awareness Training, or FEAT, in 2010 to help families like Cole's navigate the complex social service of job coaches, supported employment programs and other benefit services. At trainings for those with disabilities, Gross invites those such as Ryan and his family to speak to other families facing hurdles.
The biggest hurdle, Gross said, often is convincing families that those with a developmental disability can and should work in a meaningful job.
There will be struggles, and it takes a dedicated support system. But Martha Banning said the work is well worth it for Ryan and his whole family. "It's so important to his quality of life," she said.
Martha's advice to other families is to keep fighting, find work that your child enjoys and connect with other local families facing similar barriers.
Ryan, meanwhile, has become accustomed to the perks of operating his own business. He likes to finish his 20 to 30 hours of work early in the week if he can and cut out by Thursday, enjoying a long weekend.
While he performs all the day-to-day work of the business, his goal is to eventually hire employees so he can focus on overseeing the operation.
"Someday, I want to be the boss," he says.
As only the boss can do, he's quick to offer guests a soda from his machine.
"It's on me," he says.
Be gentle.