Hidden Angels: American Families Saving Children With Down Syndrome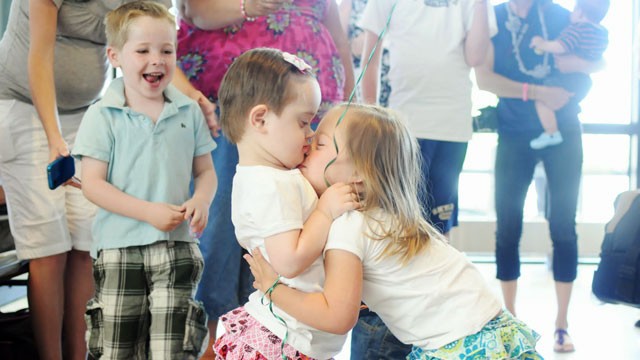 Tucked away behind the white walls of an orphanage in the eastern Ukrainian city of Donetsk, Kareen had no inkling of the life that awaited her.
At 4 years old, her fate was seemingly sealed. Within a matter of months, Kareen was scheduled to be transferred to an adult mental institution, where she would live out her life with no hope for a family or an education.
But one picture on the Internet of the little girl with Down syndrome was all it took for a 30-something Utah couple with three daughters at home to fly across the globe to bring her home. They knew virtually nothing about her, except the life of neglect she likely faced if left in her native Ukraine.
"Her eyes were really what spoke to us first," Kecia Cox said of that picture she found on the Internet. "They just grabbed us, and we just knew that she was saying, 'You're my mom and you're my dad, and you're supposed to come get me.'"
Children with Down syndrome in Ukraine are often abandoned at birth, deemed worthless by a struggling society that praises appearances. Institutionalizing these children at 4 or 5 years old alongside adults with severe mental illness is a common and accepted practice.

ABC News gained access to three of Ukraine's mental institutions and documented the very reason Kris and Kecia Cox were so quick to save Kareen. The institutions were sorely underfunded, the children were often filthy and covered in sores and scratches.
They were seen injuring themselves and rocking back and forth in what experts say is likely an attempt to self-soothe. And most of the children with Down syndrome appeared years younger than their actual ages, a kind of emotional dwarfism doctors say happens after extreme neglect.
Administrators and caretakers, one with tears in her eyes, said they want better for the children but can't get the money from the Ukrainian government.
But there is a glimmer of hope for some. A growing number of Americans are clamoring to adopt children with Down syndrome from Ukraine and other eastern European countries and give them lives their biological parents never knew they were capable of having.
'People Just Have to Abandon Children'
The fall of the Soviet Union left Ukraine an independent nation grappling with economic instability. Thirty-five percent of the population lives below the poverty level.
Giving birth to a child with Down syndrome – or with any disability – is financially and culturally crippling. It is more common to abandon a child with Down syndrome than to raise it.
Angelina, the Coxes' adoption coordinator in Donetsk who declined to give her last name, described such a birth as a "disaster for families."
"It's sad, but no choice," she said. "People just have to abandon children. It wouldn't survive in this society."
She said that even on the street, the sight of anyone with a physical handicap was rare. In most places, even in the country's capital city of Kiev, there were no wheelchair ramps, and elevators were often not wide enough to accommodate them.
The disabled, she said, are hidden from view.
Children with Down syndrome are considered outcasts, she said, throwaways.
"That's why they place them to closed institutions They have to spend the rest of life being outside of society. Absolutely," Angelina said. "They ... have absolutely no choices, no opportunities in this society."
Be gentle.