Who is there for your child as they are growing up and learning? As your child grows into adulthood, who is there for your child?
Interesting article. I hope you enjoy reading it as much as I did?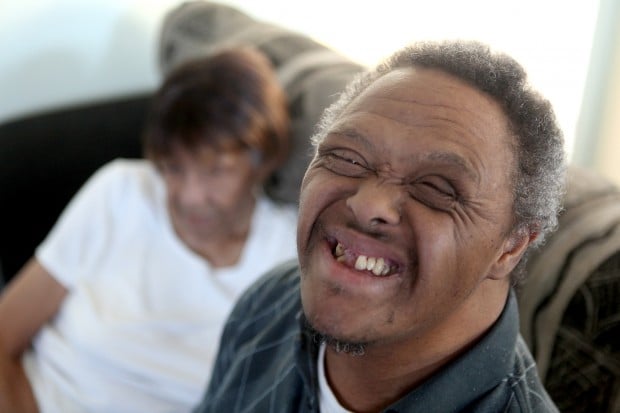 Pearlie Hatcher calls her son, Jeffrey, "Mama's baby."
Jeffrey replies that he is a man. Physically, he is 45, and the gray hair creeping around his temples and the lines around his merry eyes show it.
Developmentally, he is a child. He always has been. He always will be. The Hatcher family learned when their youngest was an infant that he had Down syndrome.
The way Pearlie explained it to his siblings, he would "always be like a baby."
Unfazed, one brother, 9 years old or so, asked if he could keep him for his own.
The brotherly instinct was sweet, and onto something. When a child is born with a developmental disability, he will in many ways never grow up, even as he grows older, into a man.
Parents will, if all goes well, watch their children leave the nest. The parental commitment will change from primary caretaker to supporter. Mothers and fathers can live their later years in retirement. Brothers and sisters can go their own separate ways.
Families that include a child with a developmental disability don't just have a lifelong connection to their son or brother. They have a lifelong commitment to somebody who will always need help.
More than 31,000 people of all ages are served by the Division of Developmental Disabilities under Arizona's Department of Economic Security. These are the people that fit state criteria, grouped into broad categories — autism, cerebral palsy, epilepsy, and by far the most common, cognitive disability — and most are eligible for long-term care because they are at risk of institutionalization otherwise.
More than 40 percent of the agency's clients are, like Jeffrey Hatcher, adults, a population that has grown slightly in recent years.
And overall, the great majority — about 88 percent — live on their own or in the family home, not in a group or institutionalized setting.
Pearlie Hatcher's commitment to her son is at her core. It always has been. It always will be.
Jeffrey still lives with his mother, who is 76. She is an elder and a widow but still sharp and independent and living in her own home. She and her son hold hands while they talk.
"Only death can stop me from taking care of him," she says. "Nothing's more important to me than Jeffrey."
MEANINGFUL FUTURES
Russ Randall has been a special education teacher for more than 30 years.
More than a classroom teacher at Coconino High School, Randall is a counselor and advocate for students who have a wide range of challenges. He wants his students to have meaningful and realistic goals.
Depending on their needs, he helps them apply to college and fill out financial aid forms, or prepare for the aptitude test for enlisting in the military. If they've been denied long-term care by the state and it's apparent they will still need assistance, he'll stand with families to appeal. And he strongly holds to the idea that everybody is employable, even if they need support.
Currently, his key responsibility is to run Coconino High's Transition to Work vocational rehabilitation program, which is supported through federal and school district funds. "Voc rehab" is a gentler, guided way for young and older adults with disabilities to gain work skills and an income.
Right now he has about 40 students each working very part-time — no more than 8 hours per week — for modest wages at school, nonprofits or community centers. The program is growing to include Flagstaff High students.
Whether the workers live with specific learning disabilities, profound cognitive delays or physical limitations, he finds that they all enjoy being industrious.
Students in special education have an Individualized Education Plan, or IEP. If they're still receiving special services at 16, that IEP must contain an adult transition plan. It can include learning how to ride a bicycle or use a bus.
As a parent of college-aged children, Randall knows how complicated the adulthood steps can be for any family. For parents of children with disabilities, there's fretting about how their grown children will fare when they die, how siblings will help.
"It is just hard. We talk to parents every day about what's going to happen to their child as an adult," he says. "It's a frightening thing. And you know, it's frightening for any parent with their child."


Read more: http://azdailysun.com/news/local/taking-care-of-disabled-adults/article_711d521e-46a5-11e1-a34a-0019bb2963f4.html#ixzz1kTXE0ZJi
Be gentle.