What is it like to be a parent of a child with Down Syndrome? Do you know someone with a child with Down Syndrome? Are you a new parent of a child with Down Syndrome? Do you enjoy reading a good book? If you have answered yes to any of these questions, then this book is for you.
Bloom: Finding Beauty in the Unexpected--A Memoir
by Kelle Hampton
Here is a brief description of the book as found on the Amazon site.
Love me. Love me. I'm not what you expected, but oh, please love me.
That was the most defining moment of my life. That was the beginning of my story.
From the outside looking in, Kelle Hampton had the perfect life: a beautiful two-year-old daughter, a loving husband, a thriving photography career, and great friends. When she learned she was pregnant with her second child, she and her husband, Brett, were ecstatic. Her pregnancy went smoothly and the ultrasounds showed a beautiful, healthy, high-kicking baby girl.
But when her new daughter was placed in her arms in the delivery room, Kelle knew instantly that something was wrong. Nella looked different than her two-year-old sister, Lainey, had at birth. As she watched friends and family celebrate with champagne toasts and endless photographs, a terrified Kelle was certain that Nella had Down syndrome—a fear her pediatrician soon confirmed. Yet gradually Kelle's fear and pain were vanquished by joy, as she embraced the realization that she had been chosen to experience an extraordinary and special gift.
With lyrical prose and gorgeous full-color photography, Bloom takes readers on a wondrous journey through Nella's first year of life—a gripping, hilarious, and intensely poignant trip of transformation in which a mother learns that perfection comes in all different shapes. It is a story about embracing life and really living it, of being fearless and accepting difference, of going beyond constricting definitions of beauty, and of the awesome power of perspective. As Kelle writes, "There is us. Our Family. We will embrace this beauty and make something of it. We will hold our precious gift and know that we are lucky."
And here is an article written by ABC news about the book.
Kelle Hampton was not expecting anything other than the picture perfect child when she headed to the hospital to deliver her second baby, Nella. But her expectations did not meet her reality.
She described her daughter's birth in the
inaugural post
of wildly popular blog,
Enjoying the Small Things
: "
I knew the minute I saw her that she had Down Syndrome and nobody else did. I held her and cried. Cried and panned the room to meet eyes with anyone that would tell me she didn't have it. I held her and looked at her like she wasn't my baby and tried to take it in. And all I can remember of these moments is her face. I will never forget my daughter in my arms, opening her eyes over and over…she locked eyes with mine and stared…bore holes into my soul. 'Love me. Love me. I'm not what you expected, but oh, please love me'".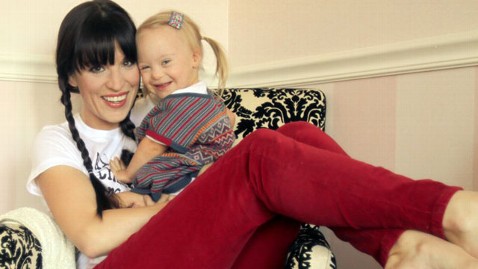 Kelle is the mother of two beautiful little girls, Lainey who is 4, and Nella who just turned 2 and was born with Down Syndrome. Nella is like many 2-year-olds. When she turned 2 it was as if she decided, "I am bringing it," Kelle says. She walks, and talks, and keeps her family on their toes.
In my very honest conversation with Kelle, she explains that coming to terms with the reality of the chromosomal disorder was a journey, one which she discusses openly and without self-censorship. Kelle speaks of the grief she encountered in the days following her daughter's birth, forcing her to let go of one dream and replace it with another. She explains, "The very first night was the most grief I have ever had in my entire life. It was the entire night, I cried. It was almost physical pain, just heaving sobs."
When I asked her how she got through those days, she told me that she found strength in her two daughters. "Those first days the strength honestly came from Nella. And it was so healing, you know, as I am sobbing and crying, I am still holding this baby that was mine. And she needed me." Her older daughter, Lainey, just 2 at the time, taught Kelle how to love because, as Kelle puts it, Lainey "didn't see Down Syndrome. And watching her and the way she loved [Nella] was completely pure. I wanted to love my daughter like Lainey loved her."
Kelle also turned to her husband, friends, family, and specifically her sister. "My sister was a rock in the beginning, I remember she told me, 'I'm actually jealous because you are going to have so many beautiful experiences with her. You are going to feel like you have a secret that you are going to want to tell everybody.' And I heard that over and over."
Kelle explains on her blog that she and her husband were afraid of the struggles their daughter would face, and they worried that their little girl would encounter a lifetime of teasing and alienation, explaining that "many of our concerns grew out of a common hope we share with any parent—that our child will be accepted and seen for her abilities and character rather than what makes her different."
In the two years since Nella's birth, Kelle has been proven wrong (pleasantly so) on many of the concerns and stereotypes that even she had about children with Down Syndrome. And she chanelled her energy into a drive to help educate pretty much anyone that will listen – or read - her story.
Kelle lives life out loud. She is not a politician or a well-connected socialite, just a mom whose love for her child is contagious. And that love has helped her raise over $200,000 for the National Down Syndrome Society – in just the two years since Nella's birth – making strides for her own family and the extended Down Syndrome community.
Kelle's raw, honest, and sometimes very entertaining account of her journey of not only accepting the life she never imagined, but completely loving it with her very big heart can be read in full detail in her memoire "Bloom," published by Harper Collins/William Morrow, which will be available on April 3
I plan on reading it this week. I'll let you know what I think.
Be gentle.