Yes, I admit it. I am a baseball junkie. I talked before about the Pujos family and their foundation to assist those with Down Syndrome. What a great organization. Albert Pujos is one of my heroes. Not only is one of the game's best players, he give our his heart, time and money to improve the lives of people with Down Syndrome. Pujos joined a new baseball team this season, the LA Angels and is expanding his foundation. Way cool!
My little baseball player






Read on about the Pujos Foundation and their expanding good works.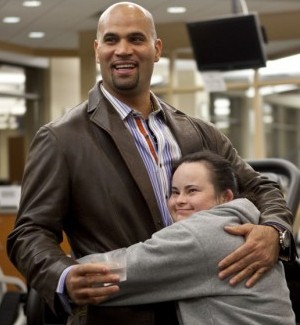 People with Down syndrome who live in Kansas City, Nashville, Tenn., and Southern California could soon be dancing with Albert Pujols, whose charity announced plans Monday to expand beyond its St. Louis base.
The nonprofit Pujols Family Foundation hosts an annual prom, fishing trips and other events for area children and adults with the developmental disability. The foundation will maintain its headquarters at Westport Plaza and continue to hold events in St. Louis, where Pujols spent 11 seasons with the Cardinals before signing with the Los Angeles Angels in December.
Albert and Deidre Pujols always intended to take the charity nationwide, but the effort gained momentum last year after a "60 Minutes" piece on the ballplayer featured the charity's events, said Todd Perry, the foundation's executive director.
"We were getting calls and letters and email from all over the country, and we really saw the need to start looking at more of a national-type vision," Perry said. "It's never been about baseball. It's really never been about Albert. It's always been about families, communities and the work that we do."
The foundation was founded seven years ago in honor of the Pujolses' 14-year-old daughter, Bella, who has Down syndrome.
In addition to the events for people with Down syndrome, the foundation also funds anti-poverty, medical and youth baseball programs in Albert Pujols' native Dominican Republic.
The charity held 40 events in St. Louis last year and is on track to do the same in 2012, although Pujols will make fewer appearances, Perry said.
Cardinals left fielder Matt Holliday will step in as host of the annual celebrity golf tournament in August at the Country Club of St. Albans.
He said that although it would be nice to have Pujols at the event, Holliday and some other Cardinals would golf in his place.
"It will still be a very enjoyable event," Holliday said.
Holliday said he and his wife, Leslee, were close friends with Albert and Deidre Pujols and shared their Christian and family values. He played in the foundation's basketball game last year and has participated in the annual golf tournaments.
"All the things the Pujols foundation stands for, family and kids and doing things for kids, is what Leslee and our family stands for," he said. "We got an opportunity to represent Jesus and the foundation ... that was the big draw for us."
The expansion sites for the foundation were based on the Pujols family's connections to the areas and the local needs.
When Pujols' deal with the Angels was reached last year, the foundation started getting calls from California asking when they would set up operations there. Talks have already begun about the foundation's plans, said Kellie Perez, senior director of the Down Syndrome Association of Orange County.
Kansas City, Deidre Pujols' hometown, is where the couple met. And the foundation had already been working with a Down syndrome organization in Nashville, where a prom and bike camp were held last year.
Within five years, 10 cities could be included in the charity's reach, Perry said. But at least for now, St. Louis is home. The Pujols family announced through the foundation last month that they had no plans to sell their home in Wildwood.
"I think Albert will spend a lot of his off-season in St. Louis and doing events," Holliday said. "They're not quitting on these families here. Nothing has really changed other than Albert plays for the Angels now."
The foundation, which reported $1 million in contributions in 2010, has not seen a drop-off in donations or sponsors since Pujols left the Cardinals, Perry said.
"The fact that he plays baseball in St. Louis or Anaheim or somewhere else hasn't made that big of a difference in our core supporters."


Read more: http://www.stltoday.com/lifestyles/health-med-fit/fitness/pujols-to-expand-st-louis-based-nonprofit-to-three-other/article_6b66ecb6-707d-59de-8e23-fba432917f70.html#ixzz1tiTCrPQF
Be gentle.