Music. Everyone has their own tastes and preferences. I am a country music fan, but do enjoy listening to all types of music.
Here is a review of a documentary about a punk band. OK, there are lots of punk bands, and no, I do not usually listen to punk music. What caught my eye about this review (or my ear) is that this band is composed of two individuals with autism and two individuals with down syndrome. How cool is that? Rock on guys and much success with your musical journey.
The Punk Syndrome – review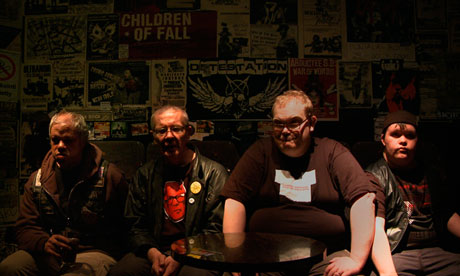 This attractive Finnish film brings to mind the Finnish director Aki Kaurismäki's
Leningrad Cowboys Go America
, a zany comedy about a terrible Finnish rock group touring the States. The difference, however, is that Kärkkäinen and Passi's film is a
documentary
about a real
punk
quartet called Pertti Kurikka's Name Day, a genuine punk quartet made up of the autistic duo of Pertti Kurikka (lead guitar) and Karl Aalto (singer), and the Down's syndrome duo of Sami Helle (bass) and Toni Välitalo (drums). Sami and Toni are younger and more cheerful than Pertti and Karl, whose songs are often angry and aggressive (eg I Need a Little Respect and Dignity in My Life; I Hate the World). But all four have a suitable punk wildness
The film presents them in warm domestic settings, on tour, making their first overseas visit (including an amusing gig on Hamburg's Reeperbahn), and cutting their first DVD. Nobody patronises them or laughs behind their backs, and they rightly take their art seriously. A very likable, relaxed film.
Be gentle.